Earlier this year, we argued that millennials could very well change the face of small business lending. We had a hunch, and after speaking to and working with hundreds of millennial business owners over the past year, we decided to take a closer look and see if our "hunch" had any merit.
We wanted to know — how are millennials stacking up against other generations when it comes to small business financing? So, we aggregated and analyzed data on more than 1,000 Fundera customers to answer the following:
Do millennial business owners have stronger businesses than non-millennial business owners?
Are millennial business owners more likely to apply for and get funded online?
What types of loan products do millennials prefer?
RELATED: How to Fix Failing Profitable Small Businesses
1. Millennial business owners have managed to build businesses that are just as strong as those of their non-millennial counterparts, despite being in business for significantly fewer years.
The media often talks about how millennials have a strong entrepreneurial spirit, but they have been slower at achieving financial independence. What does this mean for those that have taken the plunge and started their own business? To answer, we took a look at two key metrics: annual revenue and credit score.
When compared to non-millennial small businesses, millennial small businesses had a median annual revenue that was, on average, 18% less than non-millennial SMBs. However, these non-millennial businesses have been in business significantly longer — on average, non-millennial business owners have been in business for 5.4 years whereas millennial business owners have been in business for 3.2 years. Though they are making 18% less annual revenue, they've also had 40% less time to grow their businesses.
Moreover, when we took a look at credit scores, we found that millennial business owners and non-millennial business have similar credit score distributions. Though the proportion of business owners with 700+ credit scores is slightly higher for non-millennials, the differences in credit score are insignificant. In fact, a greater proportion of non-millennial business owners have credit scores greater than 620. From this credit score and revenue data, it is clear that millennials are building businesses and credit profiles that are just as strong as those of their predecessors.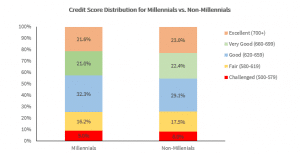 2. Millennial business owners are increasingly looking for financing online.
As a whole, the alternative lending industry seems to agree that the process of finding business financing online appeals to millennial business owners. But, as more and more millennials open shop, are they turning to online sources to discover their loan options?
RELATED: 10 Best Digital Marketing Tools for Small Business Owners
The graph below shows the proportion of millennials vs. non-millennials applying for financing through our platform. A year ago, roughly 20% of loan applicants were millennials. Now, millennials comprise more than 30% of loan applicants. Though the majority of loan applications are still submitted by non-millennials (primarily due to the fact that there are more non-millennial business owners), there is a clear and significant trend upward in the number of millennial business owners who are looking for financing online. We're willing to bet that this trend will continue to play out in the near-term and serves as pretty solid evidence that finding a loan online is becomingly increasingly more attractive for Gen Y.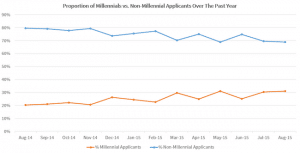 3. Millennials tend to index toward shorter-term business loans that offer faster times to funding.
For a generation that is accustomed to getting answers to questions with a few aggressive taps or a quick voice command on their mobile devices, the speed of online lending seems attractive (at least conceptually). However, not all loan products are created equal; some require more documentation, more time to underwrite, etc. than others. After mapping the distribution of loan products (by amount funded) for millennials vs. non-millennials, we found an interesting conclusion. Millennial business owners more frequently took loans that are shorter-term and faster to fund, whereas non-millennials were relatively over-indexed on longer-term loans.
RELATED: A Comprehensive Guide to Local SEO in 2018
The available loan products can be divided in two categories:
Traditional loans that are typically longer-term and require relatively more documentation; medium-term loans, SBA loans, and lines of credit fall into this category.
Non-traditional loans that are shorter-term, require much less documentation (in fact, invoice financing sometimes only requires syncing accounting software), and often have a specific short-term loan purpose; short-term loans, invoice financing, start-up loans, merchant cash advances, and equipment loans fall into this category.
The difference between millennial borrower behavior and non-millennial borrower behavior is most clear when you look at the proportion of traditional loans vs. non-traditional loans for both types of borrowers. For millennial business owners, 58.5% of the total loan amount funded comes from non-traditional loans. On the other hand, only 42.4% of the total loan amount funded for non-millennials comes from non-traditional loans; this means that the majority of the loan amount funded for non-millennials comes from traditional loans.
RELATED: Everything You Need to Know to Fund Your Ecommerce Business
There are many possible reasons for these differing loan preferences, but it seems that, in agreement with popular belief, millennials are more receptive to loans that offer fast times to funding and flexible terms. It's also important to note that products with fast times to funding can often be expensive, especially when compared to a product like SBA loans. But, millennials are conditioned to prefer instant gratification, even if it comes at a price, so it will be interesting to see how this trend continues to develop over the next few years.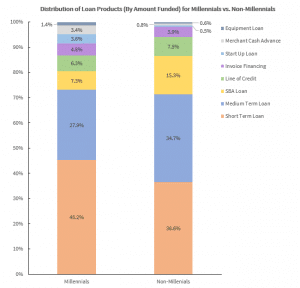 Our hope is that as the number of millennial business owners continues to grow, the trends above only become more distinct. We predict that millennials will continue to build strong businesses, turning to non-bank, alternative lending to find innovative and flexible loan products that will help their businesses thrive.
Interested in starting a business or growing a business in Santa Barbara? Contact us today for your free business consultation! Call Santa Barbara Entrepreneur at our Impact HUB location (805) 633-0877.